The E-CERTIFICATION PROGRAM IN QUALITY ANALYTICS is an online skill development program being offered to Life Sciences and Pharmacy Graduate and Post Graduate Students mobilized by SHRM Biotechnologies Pvt Ltd.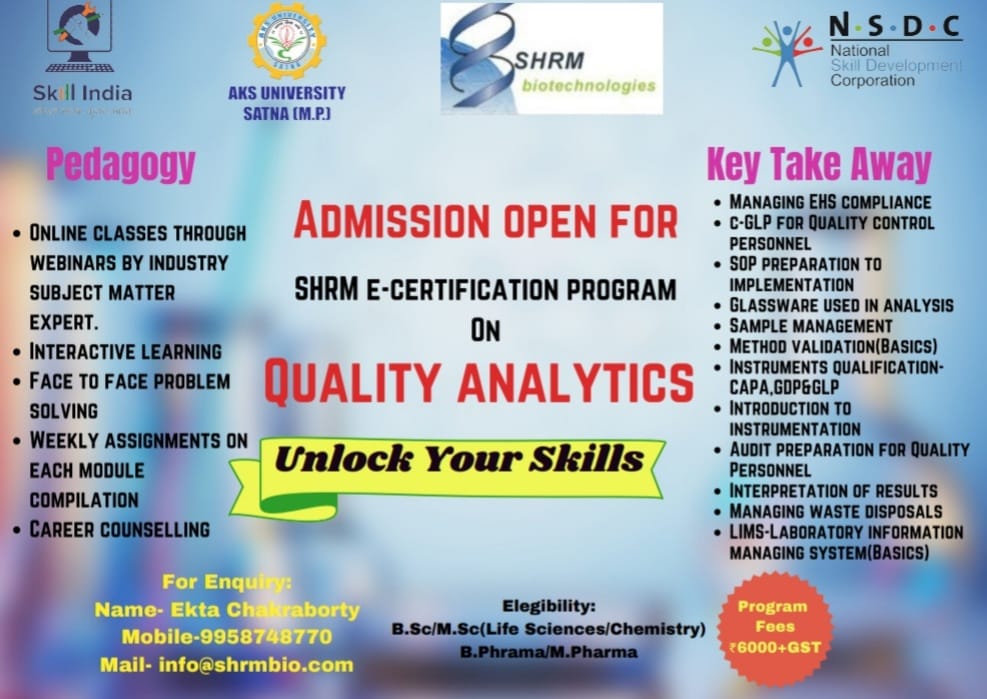 Who Should Attend?
This five-week online training is designed for those who intend to work in a cGMP/cGLP/cGCP environment, from Graduates (B.Sc. / B. Pharm./B.Tech) to Post Graduates (M.Sc. / M. Pharm./ M.Tech.) in the field of Life Sciences and Pharmacy.
It is designed for those who will hold the future roles and responsibilities where they will be required to understand and apply cGMP/cGLP/cGCP quality principles to their job as related to product quality analysis and sample testing.
It will benefit students and professionals who are new to the industry by presenting an overview of the important concepts in a logical and natural sequence so they can begin to understand GMP/GLP/GCP regulations and begin applying them effectively. Understanding the 'why' of cGMP/cGLP principles along with valuable insights and examples in every area of responsibility to enable them in their quality decision-making.
As this E-Certification Program in Quality Analytics addresses cGxP regulations, attendees intending to work with finished pharmaceuticals, biological, agriculture or any process Industry will also gain insight on how to perform quality analysis using various high end instruments.
| Program Modules | Delivery Mode |
| --- | --- |
| Orientation and overview of the Pharmaceuticals industry Managing Environmental Health and Safety Compliance Application of Chemistry, Quality and Engineering Concepts in Quality Analysis of SamplescGMP for Quality Control PersonnelcGLP and cGDP for Quality Control PersonnelStandard Operating procedure – Preparation to ImplementationGlassware used in AnalysisVolumetric MeasurementWeighing & MeasurementSample ManagementMethod ValidationProcess Validation for QC Personnel (including cleaning validation)Equipment QualificationSample Results AnalysisLab Management Information SystemManaging waste DisposalAudit Preparation for Quality Control PersonnelProfessional Skills for Quality Control Personnel | The Program will be delivered online. Students will be provided with unique login and password details to access "Daksh" portal The Program will be delivered in a Hybrid Mode. Self-learning Digital learning Material for StudentsPractical Demonstration on Video-based learning for key quality control processes Assessment towards end of each Chapter/UnitWeekend Webinars (Saturday & Sunday) with Industry experts Weekly AssignmentAssessment towards the end of ProgramCertification to each successful participant |
Program Fee:
The fee for E-Certificate Program on Quality Analytics is INR 6000+18% GST (i.e. INR 7080/-inclusive of GST)
Registration Link:-
https://forms.gle/jQjafLrWuxZWSGit7
Payment Method:
Interested students can pay the fees at the below-mentioned account of the Council through any mode of payment and share the receipt of the same during registration / through a mail communication on Training@shrmbio.com.
Account Holder: SHRM Biotechnologies Pvt Ltd
A/C no. : 919020085724614
Bank Name: Axis Bank
IFSC Code: UTIB0001707
Branch Address: (Salt Lake Sector II)

Candidates can also pay online, by using Debit / Credit / e-Wallets through the following Link:-
https://rzp.io/l/Zdf7G137CP
Amount – Rs 7080/-