Why should you attend this summer program?
There are many kids who enjoy Biology. But they are not always sure of which career path to take. Be it MBBS, Microbiology, Genetics, Forensic Science, or Biotechnology. Herewith we have launched a High School program for the same.
The choice of a subject may define your career and your life thereof. From a wide range of study and career options in the biotechnology and bio-sciences domain, you need to identify your core strengths and choose an avenue you are confident of.
Hurry Up and Register by following the Link provided below: https://forms.gle/68stJh1jgQcVHTRh9
N.B.: This summer camp will be available in both online and offline modes. The details of the program are as follows;
Biotech and Pre-Medical Summer School 2023 (Offline)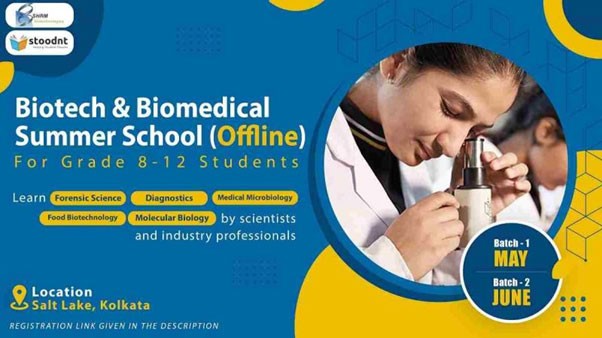 Course Content:
Topic
Theory
Practical
Molecular Biology
Introduction to Molecular
Biology, DNA, RNA & DNA replication Technique.
DNA amplification through
PCR & Analysis of
Amplified DNA through
Agarose Gel Electrophoresis
Medical Microbiology
Introduction to Medical Microbiology, Bacteriology,
Observe Bacteria under the Microscope
Food Biotechnology
Introduction to Food
Biotechnology, Quality Control Activities, Chemical
Test & Microbiological Test.
Chemical & Microbiological Quality Check of Common Food Products.
Immunology & Diagnostic Techniques
Introduction to Immunology
& Diagnostic Techniques,
How Diseases are
Diagnosed? PCR, RT-PCR, ELISA.
Determine your own Blood Group & Dot ELISA.
Forensic Science
Introduction to Forensic
Biotechnology, Crime Scene
Investigation, Evidence
Collection, Fingerprint Analysis, Blood Sample Analysis.
Crime Scene investigation:
Fingerprint Uplifting
Technique & Analysis, Forensic Analysis of Blood Stains.
Faculty:
Dr. Rupak Roy – Research Scientist, SHRM Biotechnologies Pvt. Ltd. Ex-Ph.D. Research Scholar- National Institute of Technology (NIT) Agartala.
Dr. Nilanjan Banerjee –Ex-Ph.D. Research Fellow, Bose Institute.
Mr. Sayan Bardhan- Research & Training Coordinator, SHRM Biotechnologies Pvt. Ltd.
Ms. Priya Mitra – Research & Training Coordinator, SHRM Biotechnologies Pvt.Ltd.
Ms. Shreya Banik – Research & Training Coordinator, SHRM Biotechnologies Pvt.Ltd.
Bioinformatics & Computational Biology Summer Program (Online)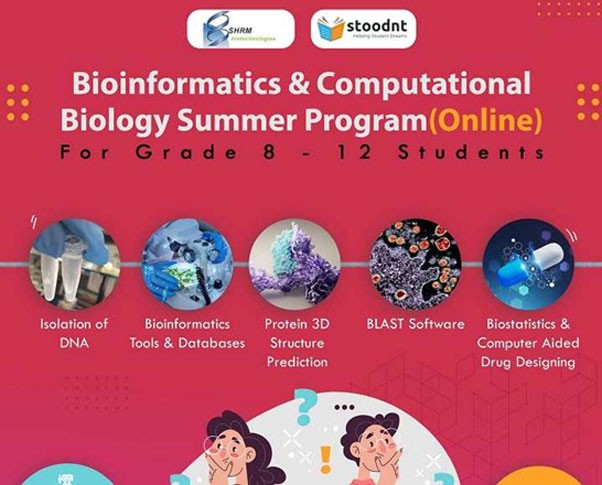 Class Details
Topic
Class 1
Introduction to Bioinformatics, Genomics, Proteomics.
Practical: Isolation of DNA from Strawberry.
Class 2
Bioinformatics Tools & Databases
Primary Database: NCBI, RCSB, PDB;
Secondary Database: Uniprot & Sequence Retrieval
Class 3
Protein Homology Modelling, Protein 3D Structure Prediction.
Class 4
Evolution of Novel Corona Virus with BLAST Software.
Class 5
Biostatistics & Computer Aided Drug Designing.
****Please note that once you make the payment, please email the screenshot (or Transaction Reference Number) to shrmbio.info@gmail.com along with the Student's Name in the email Subject Line.
Regarding any queries, please feel free to contact Ekta at +91-9958748770 or Shreya at +91-8910268897.