About the Course
The market for Clinical Biotechnology & IVD technology is growing
rapidly, and it is expected to reach USD 87.93 billion by 2027. The
increase in chronic diseases, the aging population, and the rise in
infectious diseases such as COVID as well as non-communicable
pathologies such as Cancer , Autoimmune conditions are on rise .
These are infact some of the factors driving this growth of this sector.

Who Should Attend the Course:
The Course is designed for those who want to Join Diagnostics ,
Pharmaceuticals and Biotechnology Industries. This course is equally
valuable for those who want to sit for NEET , CSIR , NET , SLET etc
or want join Academics.

Why its Important:
Learn the most significant Skills for Diagnostics , Pharmaceuticals and
Biotechnology Industries. In-vitro diagnostics and allied technologies
have become increasingly important in several scientific & industrial
fields.
Candidates from any Life Science Background such as BTech , Mtech
and BS ,MS in Zoology , Botany , Biochemistry , Microbiology ,
Environmental , Nursing , Para Medical etc may aquire extensive know
how on the most significant Subject of this generation.


USP of the Course:
# All Sessions are Practicals and Hands-on
# Less Theory More Practice
# Complicated Concepts in most easy format with Proprietary Mind
Maps.
#Become a Pro in Diagnostic Biotechnology & in-vitro techniques
#Participation in Project Based Dissertation
#You can opt for Publication in a SCOPUS indexed international
Journal.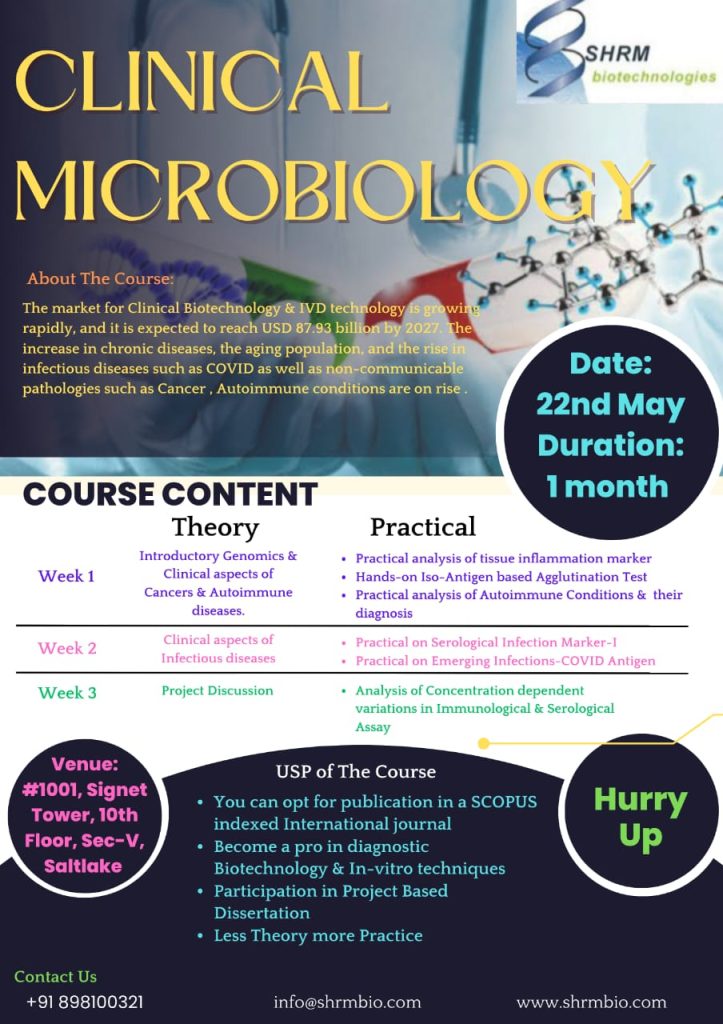 SCHEDULE AND COURSE STRUCTURE

1st Week – Introductory Genomics & Clinical aspects of Cancers & Autoimmune diseases.
Practical's
Practical Analysis of Tissue Inflamation Markers.
Hands-on demonstration of Iso-antigen based agglutination assays
Practical Analysis of Auto-immune conditions and their diagnosis.
Project Discussion – Abstract Part

2nd Week – Clinical aspects of Infectious diseases.
Practical's
Practical's on Serological Infection Markers -I
Project Discussion : Introduction Part
Practical's on Emerging Infections – COVID Antigen
Project Discussion – Materials & Method

3rd Week Onwards – Analysis of concentration dependent variations in Immunological and Serological Assays
REGISTRATION
Limited Seats

Start Class Date :- 22nd May, 23
Duration – 1 Month
Fees – Contact Admission In Charge (+91 8981003215)
Registration Link :- https://forms.gle/1ZYXeHQMSheB6L87A

Certificate on successful Completion
Publication Assistance
Placement Assistance

Venue for Project :- SHRM Biotechnologies Pvt Ltd
Signet Towers, Unit No 1001, 10th floor, DN Block,
Sector V – Salt Lake, Kolkata