Career Guidance Partner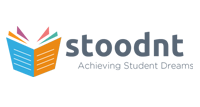 Biotechnology, Biological, and Biomedical sciences are very popular career options after Class 12. Molecular Biology, Biochemistry, Microbiology, Bioinformatics, etc. sound very exciting in high school students. But, the difference between the high school curriculum and the college curriculum is pretty wide. Additionally, Biomedical Sciences & Biotechnology are pretty research-oriented career paths.
Hence, it's only wise to get a flavor and explore college-level courses on molecular biology, biochemistry, microbiology. With this objective, SHRM Biotechnologies and Stoodnt present the 4th batch of Biotech and Biomedical Summer Program for High School Students.
Curriculum of the Biotech and Biomedical Summer Program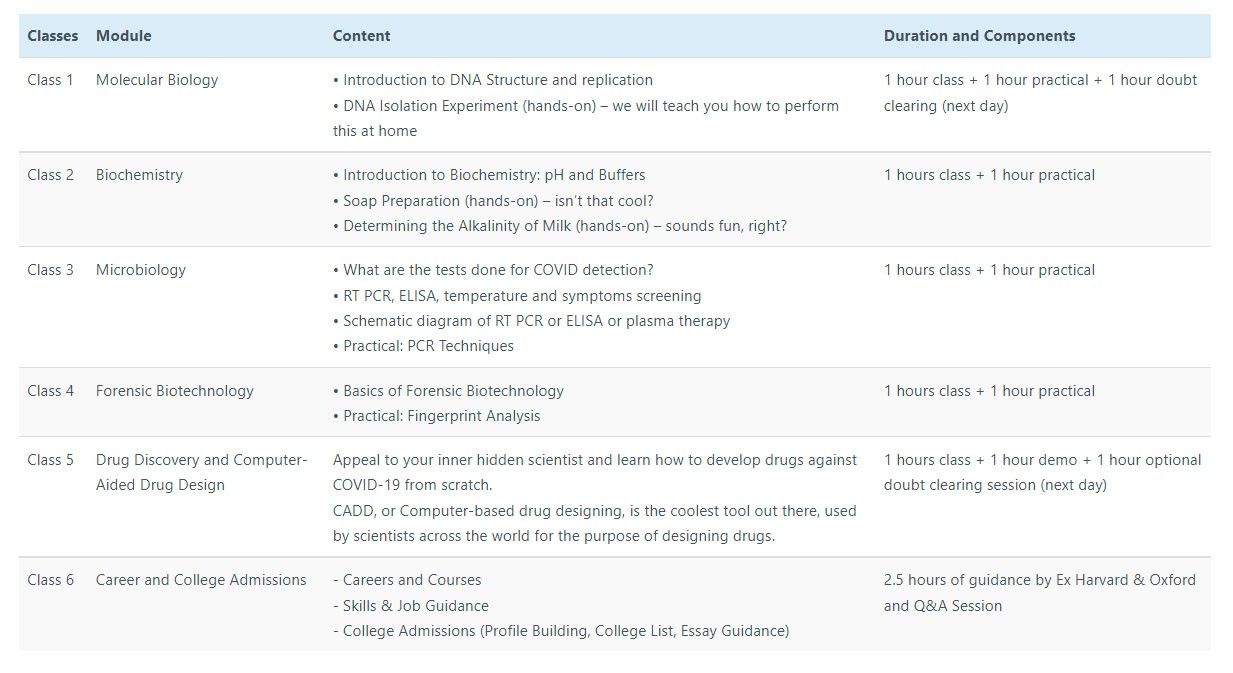 Why should you attend this summer program?
There are many kids who enjoy Biology. But, they are not always sure of which career path to take. Be it MBBS, Forensic Science, or Biotechnology – nothing is easy.
The choice of a subject may define your career and your life thereof. From a wide range of study and career options in the biotechnology and bio-sciences domain, you need to identify your core strengths and choose an avenue you are confident of.
Summer Program Dates
1st Batch: April 19 – April 30
2nd Batch: May
3rd Batch: June
Timing: Late afternoon/evening (April)
Fees and Scholarships
Program Fee: Rs. 11,800 (all inclusive)
Early-Bird Discount: 15%
Scholarship Discount: 30%
Registration Form
Please fill out the Registration Form.
Post the human genome project and sequencing projects in other organisms, there has been a huge growth of rich biological data. Bioinformatics is defined as the application of tools of computation and analysis to the capture and interpretation of biological data. Along with computational biology, bioinformatics plays an important role in modern biology, medicine, and drug discovery.
Summer Program Curriculum (Online)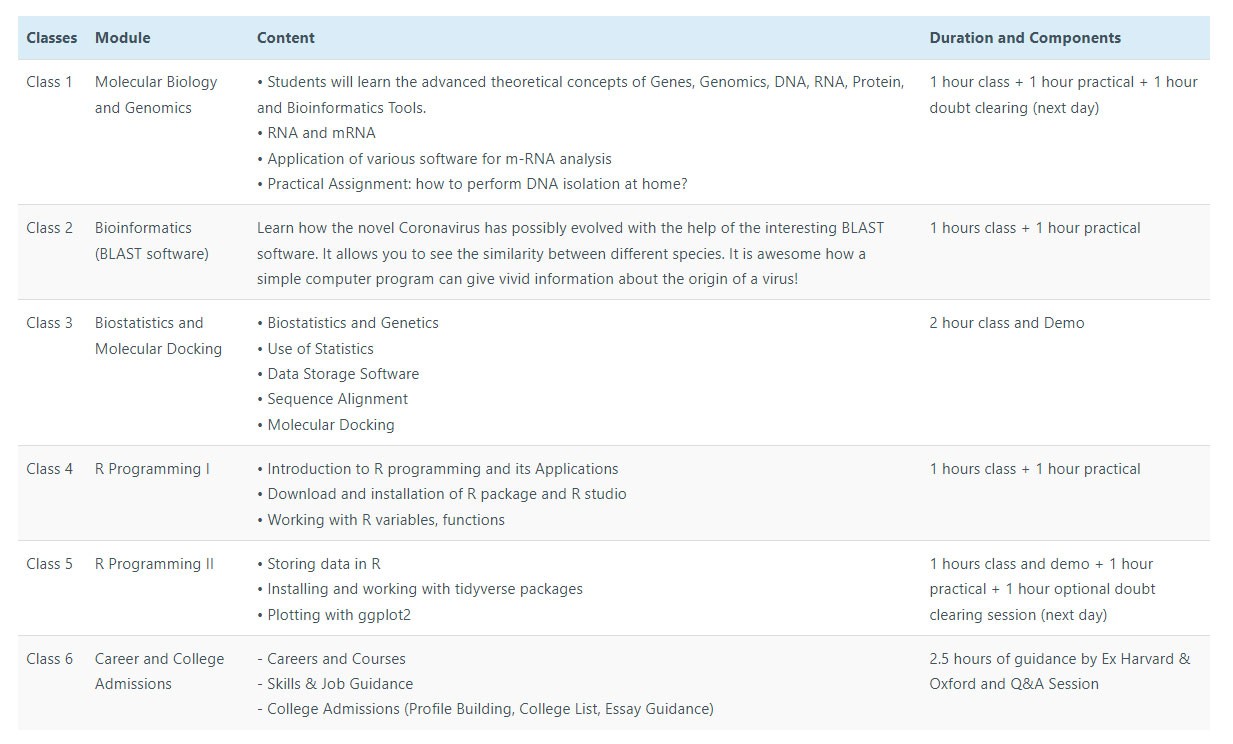 Summer Program Dates
1st Batch: May 17 – 28
2nd Batch: June 7 – 18
3rd Batch: July (TBC)
Timing: Afternoon / Evening
Summer Program Fees and Scholarships
Program Fee: Rs. 11,800 (all inclusive)
Early-Bird Discount: 15%
Scholarship Discount: 30%
Registration Form
Please fill out the Registration Form.
As human beings, we are part of the environment. With over 7.5 billion human population on Earth, our combined actions also have a big impact on the environment. Sustainable development encourages us to conserve and enhance our resource base, by gradually changing the ways in which we develop and use technologies. In order to encourage more high school students to think about the environment and sustainable development, SHRM Biotechnologies and Stoodnt are launching a new Summer Program on Environmental Biotechnology Science and Sustainability.
Who Can Attend This Program?
If you're thinking of going into a career in biology, ecology, agriculture, zoology, or any other environmental or wildlife field, this is an extremely relevant program.
Even engineering/STEM, medical, and liberal arts aspirants would find this program relevant.
Ideally, we would like to see Grade 7 – 12 students in this program. However, junior (Grade 5 or 6) and senior (1st-year college students) can also join.
How this Online Program on Environmental Science and Sustainability going to help high school students?
The environment is a vital part of our everyday lives. It affects everything we do, from climates to animal survival, to air quality, and much more. Let's take a look at some of the Earth's main environmental problems which will, in turn, define how this online program will help high school students to develop a sense of understanding the environment:
Public Health
Land Management
Waste Disposal and Pollution
Overpopulation
Water
Deforestation
Ecosystems
Endangered Species
Climate Change
That is not an exhaustive list of concerning issues that affect us all. To get a better understanding of why these things are so important, we're going to provide this online course specially designed for high school candidates.
Environmental Science and Sustainability Curriculum
Day 1:
Theory: Understanding our various components of environment and ecosystem.
Practical: Try Composting at your Home
Day 2:
Theory: Different types of pollution occurring due to various human activities and their possible remedial measures.
Practical: Try Eggshell seed starter at your Home
Day 3:
Theory: The critical scenario of energy crisis of 21st centuries and strategies to overcome them through various sustainable and green approaches.
Practical: Determination of Proximate composition of Matter [(Moisture Content (MC), Fixed Carbon (FC), Volatile Matter (VM)]
Day 4:
Theory: Industrial and domestic waste-water treatment.
Practical: Determination of Biological Oxygen Demand (BOD).
Day 5:
Theory: Various smart and sustainable agricultural techniques to feed the ever-growing population.
Practical: Methods for detection of common Adulterants in Milk & Milk Products.
Day 6:
Theory: Food adulteration and Food Biotechnology
Practical: Determine the Total Hardness of given Water Sample
Day 7:
Career and College Admission Guidance Session
Dates, Timing and Fees
Program Fee: Rs. 4,000 (all-inclusive)
Dates:

1st Batch: May 16 – May 28
2nd Batch: June 6 – June 18

Timing: May Batch will be in the Afternoon (2:30/3 pm start) and the June batch will be in the Evening (6:30/7 pm start) | Each class will be of 2-hour duration. There will be 3 classes (6 hours) each week
Registration Form
Please fill out the Registration Form.